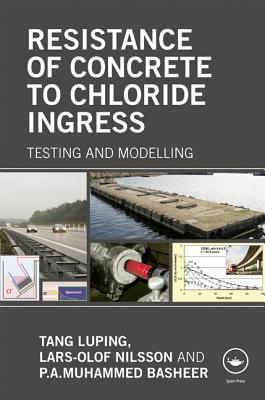 Stock Image
Author Name Tang, Luping, Nilsson, Lars-Olof, Basheer, P A Muhammed
Title Resistance of Concrete to Chloride Ingress: Testing and modelling
Binding Hardcover
Book Condition Used - Very Good
Edition 1st Edition
Publisher CRC Press 2011-11-15 00:00:00.000
ISBN Number 0415486149 / 9780415486149
Seller ID Z1-X-005-01540
Used - Very Good. Ships from UK in 48 hours or less (usually same day). Your purchase helps support the African Children's Educational Trust (A-CET). Ex-library, but has been well cared for. 100% money back guarantee. We are a world class secondhand bookstore based in Hertfordshire, United Kingdom and specialize in high quality textbooks across an enormous variety of subjects. We aim to provide a vast range of textbooks, rare and collectible books at a great price. Through our work with A-CET we have helped give hundreds of young people in Africa the vital chance to get an education. We provide a 100% money back guarantee and are dedicated to providing our customers with the highest standards of service in the bookselling industry.
More Description
Chloride ingress in reinforced concrete induces corrosion and consequent spilling and structural weakness, and it occurs world-wide and imposes an enormous cost. Yet it can be resisted by using test methods and relevant models for service life prediction.
Resistance of Concrete to Chloride Ingress sets out current understanding of chloride transport mechanisms, test methods and prediction models. It describes basic mechanisms and theories, and classifies the commonly used parameters and their units which expressing chloride and its transport properties in concrete. Laboratory test methods and in-field applicable test methods, including precision results from inter-laboratory comparison tests, are then outlined. Some of the fundamentals of models are explained, and the different types of models are then analyzed theoretically and critically. Analytical and probabilistic approaches are used to analyze the sensitivity of various models and the results from a benchmarking evaluation of different models are presented and discussed. Guidelines for the practical use of test methods and models are given, including tests for in-situ applications, and test methods validated by the precision results are detailed.
The book draws to a large extent on the Chlortest project, which involved seventeen partners from ten European countries, and serves as an authoritative guide.
Price = 137.53 GBP