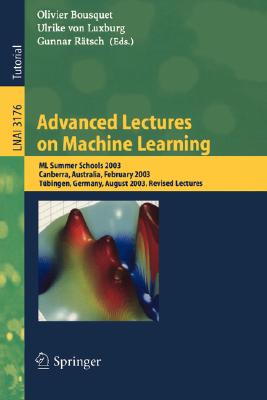 Stock Image
Author Name Bousquet, Olivier
Title Advanced Lectures on Machine Learning: ML Summer Schools 2003, Canberra, Australia, February 2-14, 2003, Tbingen, Germany, August 4-16, 2003, Revised Lectures (Lecture Notes in Computer Science)
Binding Paperback
Book Condition Used - Acceptable
Edition 2004th Edition
Publisher Springer 2008-10-10 00:00:00.000
ISBN Number 3540231226 / 9783540231226
Seller ID Z1-M-007-01386
Used - Acceptable. Sticker on cover. Tear on inside page. Ships from UK in 48 hours or less (usually same day). Your purchase helps support the African Children's Educational Trust (A-CET). Ex-library with wear and barcode page may have been removed. 100% money back guarantee. We are a world class secondhand bookstore based in Hertfordshire, United Kingdom and specialize in high quality textbooks across an enormous variety of subjects. We aim to provide a vast range of textbooks, rare and collectible books at a great price. Through our work with A-CET we have helped give hundreds of young people in Africa the vital chance to get an education. We provide a 100% money back guarantee and are dedicated to providing our customers with the highest standards of service in the bookselling industry.
More Description
Machine Learning has become a key enabling technology for many engineering applications, investigating scientific questions and theoretical problems alike. To stimulate discussions and to disseminate new results, a summer school series was started in February 2002, the documentation of which is published as LNAI 2600.
This book presents revised lectures of two subsequent summer schools held in 2003 in Canberra, Australia, and in Tubingen, Germany. The tutorial lectures included are devoted to statistical learning theory, unsupervised learning, Bayesian inference, and applications in pattern recognition; they provide in-depth overviews of exciting new developments and contain a large number of references.
Graduate students, lecturers, researchers and professionals alike will find this book a useful resource in learning and teaching machine learning.
Price = 40.99 GBP