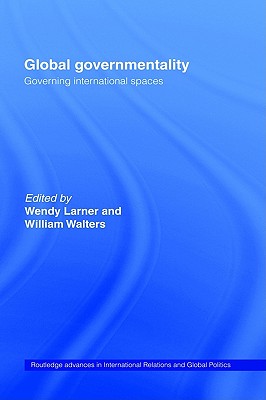 Stock Image
Author Name Larner, Wendy
Title Global Governmentality: Governing International Spaces (Routledge Advances in International Relations and Global Politics)
Binding Hardcover
Book Condition Used - Good
Publisher Routledge 2004-09-01 00:00:00.000
ISBN Number 0415311381 / 9780415311380
Seller ID Z1-K-029-00615
Ships from UK in 48 hours or less (usually same day). Your purchase helps support the African Children's Educational Trust (A-CET). Ex-library, so some stamps and wear, and may have sticker on cover, but in good overall condition. 100% money back guarantee. We are a world class secondhand bookstore based in Hertfordshire, United Kingdom and specialize in high quality textbooks across an enormous variety of subjects. We aim to provide a vast range of textbooks, rare and collectible books at a great price. Through our work with A-CET we have helped give hundreds of young people in Africa the vital chance to get an education. We provide a 100% money back guarantee and are dedicated to providing our customers with the highest standards of service in the bookselling industry.
More Description
Foucault's thoughts on governmentality have made a significant impact on the studies of power and governance in modern societies. However, most studies of governmentality confine themselves to the exploration of power within nation-states. Global Governmentality extends Foucault's political thought towards international studies, exploring the governance of the global, the international, the regional and many other extra-domestic spaces.
Combining historical and contemporary outlooks, this book offers innovative interdisciplinary explorations of such issues as international peacekeeping, refugees, political rationalities of security and neoliberalism, the spatiality of globalization, the genealogy of development, and the ethical governance of corporate activity.
At a time when many of the geopolitical and economic certainties which framed international affairs are in flux, Global Governmentality is suggestive of new territories and lines for international analysis. It will be of interest to students and researchers of both governmentality and international studies.
Price = 49.98 GBP