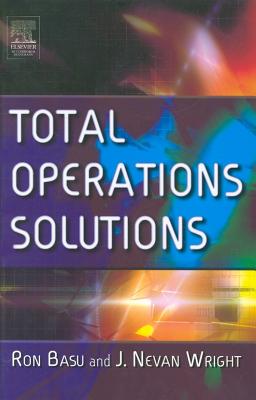 Stock Image
Author Name BASU, RON; WRIGHT, J. NEVAN.
Title Total Operations Solutions
Binding Paperback
Book Condition Used - Very Good
Publisher Routledge 2005-01-01 00:00:00.000
ISBN Number 0750664657 / 9780750664653
Seller ID Z1-K-014-01146
Used - Very Good. Ships from UK in 48 hours or less (usually same day). Your purchase helps support the African Children's Educational Trust (A-CET). Ex-library, but has been well cared for. 100% money back guarantee. We are a world class secondhand bookstore based in Hertfordshire, United Kingdom and specialize in high quality textbooks across an enormous variety of subjects. We aim to provide a vast range of textbooks, rare and collectible books at a great price. Through our work with A-CET we have helped give hundreds of young people in Africa the vital chance to get an education. We provide a 100% money back guarantee and are dedicated to providing our customers with the highest standards of service in the bookselling industry.
More Description
Total Operations Solutions builds on concepts that were introduced in "Total Manufacturing Solutions," Basu and Wright (1997). It demonstrates how this holistic approach of operational excellence driven by a self-assessment methodology can be applied equally to manufacturing, service or public sectors.The text covers an implementation programme to demonstrate how to put the methodology into practice. a differentiating feature ofthe approach will be a critical uopdate, impact analysis and comparison with new developments such as e-Business, outsourcing, Six Sigma, EFQM and ISO 9000:2000. It is a step-by-step guide for the application of the appropriate tools to the improvement process.Total Operations Solutions could be used as an essential handbook for all employees in a Six Sigma programme and provide a better understanding of basic tools and techniques to help them to support a quality improvement initiative and sustain a srong competitive position.
Price = 88.95 GBP