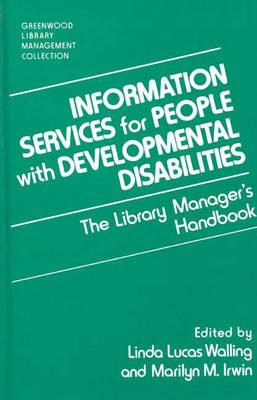 Stock Image
Author Name Irwin, Marilyn M, Walling, Linda L.
Title Information Services for People with Developmental Disabilities: The Library Manager's Handbook (The Greenwood Library Management Collection)
Binding Hardcover
Book Condition Used - Good
Publisher Libraries Unlimited 1995-04-30 00:00:00.000
ISBN Number 0313287805 / 9780313287800
Seller ID Z1-K-007-00995
Ships from UK in 48 hours or less (usually same day). Your purchase helps support the African Children's Educational Trust (A-CET). Ex-library, so some stamps and wear, but in good overall condition. 100% money back guarantee. We are a world class secondhand bookstore based in Hertfordshire, United Kingdom and specialize in high quality textbooks across an enormous variety of subjects. We aim to provide a vast range of textbooks, rare and collectible books at a great price. Through our work with A-CET we have helped give hundreds of young people in Africa the vital chance to get an education. We provide a 100% money back guarantee and are dedicated to providing our customers with the highest standards of service in the bookselling industry.
More Description
Developmental disabilities are the most numerous of disabilities, and they are exceptionally complex. This professional reference overviews developmental disabilities, discusses the information needs of people with developmental disabilities, and provides practical guidance to librarians and information professionals who serve them. Particular attention is given to the ramifications of the Americans with Disabilities Act for librarians.
The first part of the book defines and describes developmental disabilities from perspectives relevant to librarians and information professionals. The second part examines key life issues that have a major impact on people with developmental disabilities. This section emphasizes the current trend toward the inclusion of people with developmental disabilities in mainstream society. References to related information sources are included throughout. The third part looks at disabilities from the perspective of the library or other information agency. An appendix lists organizations, agencies, businesses, and libraries that provide additional materials.
Price = 8.09 GBP