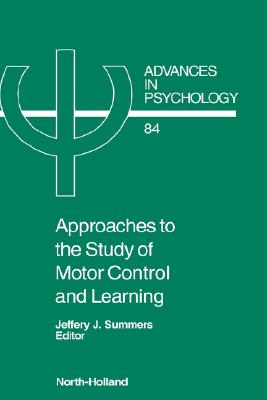 Stock Image
Author Name Summers, Suzanne C.
Title Approaches to the Study of Motor Control and Learning, Volume 84 (Advances in Psychology)
Binding Hardcover
Book Condition Used - Good
Edition 1st Edition
Publisher North Holland 1992-01-01 00:00:00.000
ISBN Number 0444884556 / 9780444884558
Seller ID Z1-K-007-00550
Ships from UK in 48 hours or less (usually same day). Your purchase helps support the African Children's Educational Trust (A-CET). Ex-library, so some stamps and wear, but in good overall condition. 100% money back guarantee. We are a world class secondhand bookstore based in Hertfordshire, United Kingdom and specialize in high quality textbooks across an enormous variety of subjects. We aim to provide a vast range of textbooks, rare and collectible books at a great price. Through our work with A-CET we have helped give hundreds of young people in Africa the vital chance to get an education. We provide a 100% money back guarantee and are dedicated to providing our customers with the highest standards of service in the bookselling industry.
More Description
During the past two decades, there has been a dramatic increase
in interest in the study of motor control and learning. In this
volume authors from a variety of backgrounds and theoretical
perspectives review their research with particular emphasis on
the methods and paradigms employed, and the future direction of
their work. The book is divided into four main sections. The
first section contains chapters examining general issues and
trends in the movement behaviour field. The remaining three
sections contain chapters from scientists working in three
broadly defined areas of interest: coordination and control;
visuo-motor processes; and movement disorders. Each section
provides an overview of the different approaches and different
levels of analysis being used to examine specific topics within
the motor domain.
Price = 36.32 GBP