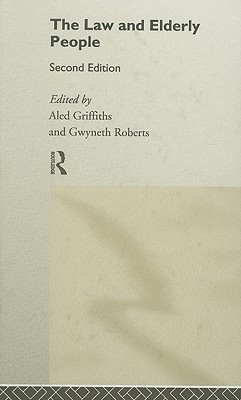 Stock Image
Author Name Griffiths, Aled
Title The Law and Elderly People
Binding Hardcover
Book Condition Used - Very Good
Edition 2nd Edition
Publisher Routledge 1996-02-01 00:00:00.000
ISBN Number 0415120446 / 9780415120449
Seller ID Z1-J-010-00002
Used - Very Good. Ships from UK in 48 hours or less (usually same day). Your purchase helps support the African Children's Educational Trust (A-CET). Ex-library, but has been well cared for. 100% money back guarantee. We are a world class secondhand bookstore based in Hertfordshire, United Kingdom and specialize in high quality textbooks across an enormous variety of subjects. We aim to provide a vast range of textbooks, rare and collectible books at a great price. Through our work with A-CET we have helped give hundreds of young people in Africa the vital chance to get an education. We provide a 100% money back guarantee and are dedicated to providing our customers with the highest standards of service in the bookselling industry.
More Description
Although the number of elderly people in Britain is increasing steadily, the law in relation to their particular needs is a relatively neglected field. The Law and Elderly People was the first text to provide easily accessible information for those involved in advice-giving and service provision in this rapidly developing field. This second edition has been fully revised and completely updated to reflect the major legal and social changes which have recently occurred. Concerned for the independence and autonomy of both young elderly and the old elderly, the book covers employment and income, accomodation and housing, community and residential care, health provision and delivery and family relationships, thus providing an important guide to the most important legal issues.
The Law and Elderly People will be of practical help to all those concerned with the welfare of the elderly and to undergraduates and lecturers in social work, law and gerontology.
Price = 27.80 GBP