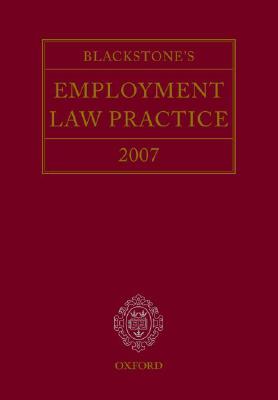 Stock Image
Author Name Brown, Damian, Korn, Anthony, Mansfield, Gavin, Palca, Julia, Taylor, Catherine
Title Blackstone's Employment Law Practice 2007
Binding Paperback
Book Condition Used - Good
Edition Revised edition
Publisher Oxford University Press 2007-05-24 00:00:00.000
ISBN Number 0199216738 / 9780199216734
Seller ID Z1-J-009-00717
Ships from UK in 48 hours or less (usually same day). Your purchase helps support the African Children's Educational Trust (A-CET). Ex-library, so some wear and barcode page may have been removed, but in good overall condition. 100% money back guarantee. We are a world class secondhand bookstore based in Hertfordshire, United Kingdom and specialize in high quality textbooks across an enormous variety of subjects. We aim to provide a vast range of textbooks, rare and collectible books at a great price. Through our work with A-CET we have helped give hundreds of young people in Africa the vital chance to get an education. We provide a 100% money back guarantee and are dedicated to providing our customers with the highest standards of service in the bookselling industry.
More Description
Blackstone's Employment Law Practice 2007 is a tailor-made reference for practitioners advising and representing parties in employment litigation in the employment tribunal or civil courts. Completely self-contained, the book draws together into one portable single volume the relevant legislation, procedural rules, Codes of Practice, and Practice Directions, and offers authoritative in-depth analysis from a team of highly respected practitioners.
Blackstone's Employment Law Practice 2007 provides complete coverage of practice and procedure in the Employment Tribunal, Employment Appeal Tribunal and Central Arbitration Committee, as well as employment issues in the High Court and Court of Appeal. It is fully up to date with the latest developments in law and procedure, and provides expert guidance on the key areas of substantive law - including summaries of the leading cases. It also includes specialist coverage of issues that frequently arise at the tribunal, including calculation of compensation, guidelines for general damages in discrimination cases, guidance on drafting of compromise agreements, group litigation, and consent orders. Other features of the book include a chapter on taxation of awards by Jonathan Schwarz of 3 Temple Gardens Tax Chambers and a chapter on Employment Tribunal Procedure in Scotland by Brian Napier QC of Fountain Court Chambers.
Designed specifically for the busy tribunal practitioner, the book's clear and accessible page design ensures quick reference and easy access to key information, and its wide range of procedural checklists clarifies complex areas.
Blackstone's Employment Law Practice 2007 is an essential reference tool for solicitors and barristers practising employment law, employment tribunal chairmen, as well as trade union officials, CAB advisers, human resources officers and employment consultants.
Price = 3.25 GBP