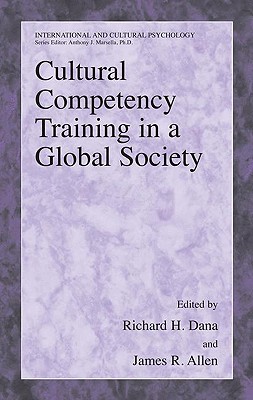 Stock Image
Author Name Dana, Richard H.
Title Cultural Competency Training in a Global Society (International and Cultural Psychology)
Book Condition Used - Like New
Publisher
ISBN Number 0387798218 / 9780387798219
Seller ID Z1-F-031-00833
Used - Like New. Ships from UK in 48 hours or less (usually same day). Your purchase helps support the African Children's Educational Trust (A-CET). 100% money back guarantee. We are a world class secondhand bookstore based in Hertfordshire, United Kingdom and specialize in high quality textbooks across an enormous variety of subjects. We aim to provide a vast range of textbooks, rare and collectible books at a great price. Through our work with A-CET we have helped give hundreds of young people in Africa the vital chance to get an education. We provide a 100% money back guarantee and are dedicated to providing our customers with the highest standards of service in the bookselling industry.
More Description
Cultural competence is more than an admirable goal: it is an essential skill set for mental health p...
Price = 64.78 GBP