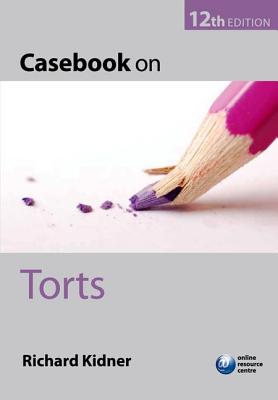 Stock Image
Author Name Kidner, Richard
Title Casebook on Torts
Binding Paperback
Book Condition Used - Good
Edition 12th Edition
Publisher Oxford University Press 2012-09-07 00:00:00.000
ISBN Number 0199644810 / 9780199644810
Seller ID Z1-E-010-01103
Ships from UK in 48 hours or less (usually same day). Your purchase helps support the African Children's Educational Trust (A-CET). Ex-library, so some stamps and wear, but in good overall condition. 100% money back guarantee. We are a world class secondhand bookstore based in Hertfordshire, United Kingdom and specialize in high quality textbooks across an enormous variety of subjects. We aim to provide a vast range of textbooks, rare and collectible books at a great price. Through our work with A-CET we have helped give hundreds of young people in Africa the vital chance to get an education. We provide a 100% money back guarantee and are dedicated to providing our customers with the highest standards of service in the bookselling industry.
More Description
Casebook on Torts is essential reading for students new to studying tort law at undergraduate level, providing a comprehensive, portable library of the leading cases in the field. It presents an impressive range of carefully edited extracts, which clearly illustrate the essence and reasoning behind each decision made. Concise author commentary focuses the reader on the key elements within the extracts, while end-of-chapter questions encourages them to check their understanding as they progress. Statutory materials have been included where they are necessary to understand the subject. The book is an indispensable companion for tort law students.
The text is supported by an Online Resource Centre which provides regular updates on developments in the law as well as web links to aid further study.
Price = 3.25 GBP