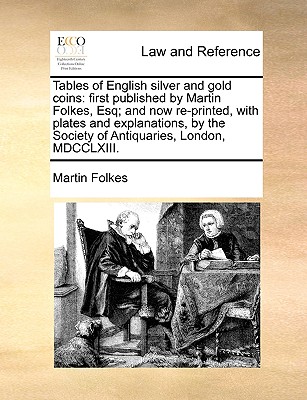 Stock Image
Author Name Folkes, Martin
Title Tables of English silver and gold coins: first published by Martin Folkes, Esq; and now re-printed, with plates and explanations, by the Society of Antiquaries, London, MDCCLXIII.
Binding Paperback
Book Condition New
Publisher Gale ECCO, Print Editions 2010-05-28 00:00:00.000
ISBN Number 1140966243 / 9781140966241
Seller ID Z1-C-051-01063
New. This is a reproduction of an out of print title. This book may have occasional imperfections such as missing or blurred pages, poor pictures, errant marks, etc. that were either part of the original artifact, or were introduced by the scanning process. Book is new and unread but may have minor shelf wear. Ships from UK in 48 hours or less (usually same day). Your purchase helps support the African Children's Educational Trust (A-CET). 100% money back guarantee. We are a world class secondhand bookstore based in Hertfordshire, United Kingdom and specialize in high quality textbooks across an enormous variety of subjects. We aim to provide a vast range of textbooks, rare and collectible books at a great price. Through our work with A-CET we have helped give hundreds of young people in Africa the vital chance to get an education. We provide a 100% money back guarantee and are dedicated to providing our customers with the highest standards of service in the bookselling industry.
More Description
The 18th century was a wealth of knowledge, exploration and rapidly growing technology and expanding record-keeping made possible by advances in the printing press. In its determination to preserve the century of revolution, Gale initiated a revolution of its own: digitization of epic proportions to preserve these invaluable works in the largest archive of its kind. Now for the first time these high-quality digital copies of original 18th century manuscripts are available in print, making them highly accessible to libraries, undergraduate students, and independent scholars.This collection reveals the history of English common law and Empire law in a vastly changing world of British expansion. Dominating the legal field is the Commentaries of the Law of England by Sir William Blackstone, which first appeared in 1765. Reference works such as almanacs and catalogues continue to educate us by revealing the day-to-day workings of society.++++The below data was compiled from various identification fields in the bibliographic record of this title. This data is provided as an additional tool in helping to insure edition identification: ++++British LibraryT147585Edited by John Ward and Andrew Gifford. In three parts, each with separate pagination. The register is continuous. The second part has a separate titlepage: 'A table of English gold coins from the eighteenth year of King Edward the Third, ' London, repr London: Society of Antiquaries, 1761-63]. iv,161, 1];12;216p., XLII, XIX, VI plates; 4
Price = 17.43 GBP