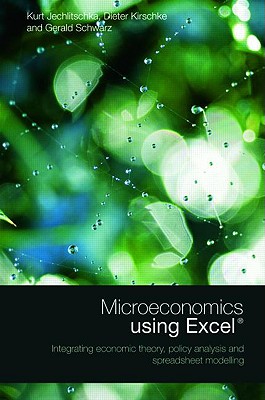 Stock Image
Author Name Schwarz, Gerald, Jechlitschka, Kurt, Kirschke, Dieter
Title Microeconomics using Excel: Integrating Economic Theory, Policy Analysis and Spreadsheet Modelling
Binding Paperback
Book Condition Used - Very Good
Edition 1st Edition
Publisher Routledge 2007-09-14 00:00:00.000
ISBN Number 0415417872 / 9780415417877
Seller ID Z1-C-047-01702
Used - Very Good. Ships from UK in 48 hours or less (usually same day). Your purchase helps support the African Children's Educational Trust (A-CET). Ex-library, but has been well cared for. 100% money back guarantee. We are a world class secondhand bookstore based in Hertfordshire, United Kingdom and specialize in high quality textbooks across an enormous variety of subjects. We aim to provide a vast range of textbooks, rare and collectible books at a great price. Through our work with A-CET we have helped give hundreds of young people in Africa the vital chance to get an education. We provide a 100% money back guarantee and are dedicated to providing our customers with the highest standards of service in the bookselling industry.
More Description
Using Microsoft Excel, the market leading spreadsheet package, this book combines theory with modelling aspects and spreadsheet analysis. Microeconomics Using Excel provides students with the tools with which to better understand microeconomic analysis.
It focuses on solving microeconomic problems by integrating economic theory, policy analysis and spreadsheet modelling. This unique approach facilitates a more comprehensive understanding of the link between theory and problem solving.
It is divided into four core parts:
analysis of price policies
analysis of structural policies
multi-market models
budget policy and priority settings.
The theory behind each problem is explained and each model is solved using excel. Each model is also available online and can be used as a prototype for analysis and specific needs.
Microeconomics using Excel will be of great interest to students studying economics as well as to professionals in economic and policy analysis.
Price = 10.66 GBP