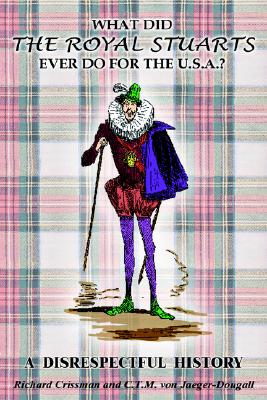 Stock Image
Author Name Crissman, Richard
Title What Did the Royal Stuarts Ever Do for the U.S.A.?: A Disrespectful History
Binding Paperback
Book Condition Used - Like New
Edition 0th Edition
Publisher iUniverse, Inc. 2005-03-06 00:00:00.000
ISBN Number 0595329500 / 9780595329502
Seller ID Z1-B-014-00718
Used - Like New. Book is new and unread but may have minor shelf wear. Ships from UK in 48 hours or less (usually same day). Your purchase helps support the African Children's Educational Trust (A-CET). 100% money back guarantee. We are a world class secondhand bookstore based in Hertfordshire, United Kingdom and specialize in high quality textbooks across an enormous variety of subjects. We aim to provide a vast range of textbooks, rare and collectible books at a great price. Through our work with A-CET we have helped give hundreds of young people in Africa the vital chance to get an education. We provide a 100% money back guarantee and are dedicated to providing our customers with the highest standards of service in the bookselling industry.
More Description
What if the ousted kings of England, the Stuarts, had claimed the North American colonies? We might have been free of the English a century earlier--no revolution needed What set up this possibility? How did it happen that those foolish, brave, and unlucky Stuarts did everything wrong to ensure that their Scottish subjects migrated to North America as soon as there were any ships going in that direction?
This amusing book is full of lost causes, wrongheaded kings, and sheer incompetence. Prince Charlie wasn't bonny at all, and Mary, Queen of Scots wasn't innocent. Read all about these feckless kings of Scotland and England, and about how they gave so much to the USA.
Price = 8.02 GBP